Crowfoot Wrench, Heavy Duty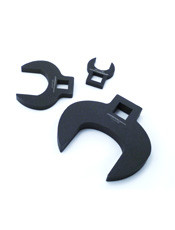 IMPERIAL-Newton Corp™ manufactures industrial grade heavy duty open-end and box-end crowfoot wrenches in almost any metric or imperial shape or size you need from 12-point, to MS33787 spline, to custom crowfoot shapes for military and OEM applications. Even more impressive than the vast selection of crowsfoot sizes and shapes we offer, is their exceptional strength and durability, fully backed by our Lifetime Warranty. Please note that crowfoot wrenches can only be used with hand torque wrenches and breaker bars, they cannot be used with impact wrenches or other power tools which have a spinning square drive design. Popular sizes and styles are typically in-stock, available to ship.
Unlike most common crow foot wrenches, IMPERIAL-Newton industrial grade crowfoot wrenches are manufactured specifically for heavy duty industrial applications and loading, utilizing heat treated alloy steels with industrial black finish, same as our impact sockets and striking wrenches. Our designs are entirely our own proprietary model, derived from a merging of ANSI and DIN specifications and our long standing expertise in producing high strength tools for heavy industrial customers the world over. These super strong crowfoot wrenches were developed from inception with the most demanding applications in mind; made to handle the loads required by the nut size they fit, and now extensively validated in real world applications for years. Our crowfoot designs have been subjected repeatedly to the most demanding real-world applications by our customers in military, oilfield and aerospace sectors – who demand extremely high loading that is just not possible with common brands. In addition to their time tested, proven track record with the most demanding customers, designs are analyzed and optimized using state of the art FEA and fastener design analysis tools to validate custom designs as needed and prove concepts to speed research and development of difficult applications. The result, is our full line of IMPERIAL-Newton crowfoot wrenches which offer you extremely strong and durable designs across our usually vast range of sizes and shapes, supporting far higher loading than others to outlast and outperform any of the typical chrome crow foot wrenches on the market today.
To make life easier when working with torque measuring instruments (e.g., click torque wrenches), we purposely designed the length offset dimension to be an easy number to work with, so that calculating the change in torque setting is a more straight forward calculation wherever possible. A clear and simple document is available upon request to help users accurately set torque tools when working with crowfoot and extended crowfoot designs. Chose from one of the sizes listed below or specify exactly what you need using a sketch or description, and we'll do the rest.
Non-sparking crowfoot wrenches and other application specific alloys such as stainless steel and titanium crowfoot wrenches are also available. This list is only partial, and represents only part of what is available. We can quickly make any combination of drive and nut size or length) so long as it fits within a heavy industrial scope of purpose:
1/2" Drive
3/4" Drive
1" Drive
1-1/2" Drive

1-1/2"
1-5/8"
1-11/16"
1-3/4"
1-13/16"
1-7/8"
1-15/16"
2"
2-1/16"
2-1/8"
2-3/16"
2-1/4"
2-5/16"
2-3/8"
2-7/16"
2-1/2"
2-9/16"
2-5/8"

38 mm
39 mm
40 mm
41 mm
42 mm
43 mm
44 mm
45 mm
46 mm
47 mm
48 mm
49 mm
50 mm
51 mm
52 mm
53 mm
54 mm
55 mm
56 mm
57 mm
58 mm
59 mm
60 mm
61 mm
62 mm
63 mm
64 mm
65 mm

1-1/2"
1-5/8"
1-11/16"
1-3/4"
1-13/16"
1-7/8"
1-15/16"
2"
2-1/16"
2-1/8"
2-3/16"
2-1/4"
2-5/16"
2-3/8"
2-7/16"
2-1/2"
2-9/16"
2-5/8"
2-11/16"
2-3/4"
2-13/16"
2-7/8"
2-15/16"
3"
3-1/16"
3-1/8"
3-3/16"
3-1/4"
3-5/16"
3-3/8"
3-7/16"
3-1/2"

38 mm
39 mm
40 mm
41 mm
42 mm
43 mm
44 mm
45 mm
46 mm
47 mm
48 mm
49 mm
50 mm
51 mm
52 mm
53 mm
54 mm
55 mm
56 mm
57 mm
58 mm
59 mm
60 mm
61 mm
62 mm
63 mm
64 mm
65 mm
66 mm
67 mm
68 mm
69 mm
70 mm
71 mm
72 mm
73 mm
74 mm
75 mm
76 mm
77 mm
78 mm
79 mm
80 mm
81 mm
82 mm
83 mm
84 mm
85 mm
86 mm
87 mm
88 mm
89 mm
90 mm

1-1/2"
1-5/8"
1-11/16"
1-3/4"
1-13/16"
1-7/8"
1-15/16"
2"
2-1/16"
2-1/8"
2-3/16"
2-1/4"
2-5/16"
2-3/8"
2-7/16"
2-1/2"
2-9/16"
2-5/8"
2-11/16"
2-3/4"
2-13/16"
2-7/8"
2-15/16"
3"
3-1/16"
3-1/8"
3-3/16"
3-1/4"
3-5/16"
3-3/8"
3-7/16"
3-1/2"
3-9/16"
3-5/8"
3-11/16"
3-3/4"
3-13/16"
3-7/8"
3-15/16"
4"
4-1/16"
4-1/8"
4-3/16"
4-1/4"
4-5/16"
4-3/8"
4-7/16"
4-1/2"
4-9/16"
4-5/8"
4-11/16"
4-3/4"
4-13/16"
4-7/8"
4-15/16"
5"
5-1/16"
5-1/8"
5-3/16"
5-1/4"
5-5/16"
5-3/8"
5-7/16"
5-1/2"
5-9/16"
5-5/8"
5-11/16"
5-3/4"

38 mm
39 mm
40 mm
41 mm
42 mm
43 mm
44 mm
45 mm
46 mm
47 mm
48 mm
49 mm
50 mm
51 mm
52 mm
53 mm
54 mm
55 mm
56 mm
57 mm
58 mm
59 mm
60 mm
61 mm
62 mm
63 mm
64 mm
65 mm
66 mm
67 mm
68 mm
69 mm
70 mm
71 mm
72 mm
73 mm
74 mm
75 mm
76 mm
77 mm
78 mm
79 mm
80 mm
81 mm
82 mm
83 mm
84 mm
85 mm
86 mm
87 mm
88 mm
89 mm
90 mm
95 mm
100 mm
105 mm
110 mm
115 mm
120 mm
125 mm
130 mm
135 mm
140 mm
145 mm

1-1/2"
1-5/8"
1-11/16"
1-3/4"
1-13/16"
1-7/8"
1-15/16"
2"
2-1/16"
2-1/8"
2-3/16"
2-1/4"
2-5/16"
2-3/8"
2-7/16"
2-1/2"
2-9/16"
2-5/8"
2-11/16"
2-3/4"
2-13/16"
2-7/8"
2-15/16"
3"
3-1/16"
3-1/8"
3-3/16"
3-1/4"
3-5/16"
3-3/8"
3-7/16"
3-1/2"
3-9/16"
3-5/8"
3-11/16"
3-3/4"
3-13/16"
3-7/8"
3-15/16"
4"
4-1/16"
4-1/8"
4-3/16"
4-1/4"
4-5/16"
4-3/8"
4-7/16"
4-1/2"
4-9/16"
4-5/8"
4-11/16"
4-3/4"
4-13/16"
4-7/8"
4-15/16"
5"
5-1/16"
5-1/8"
5-3/16"
5-1/4"
5-5/16"
5-3/8"
5-7/16"
5-1/2"
5-9/16"
5-5/8"
5-11/16"
5-3/4"
5-13/16"
5-7/8"
5-15/16"
6"
6-1/16"
6-1/8"
6-3/16"
6-1/4"
6-5/16"
6-3/8"
6-7/16"
6-1/2"
6-9/16"
6-5/8"
6-11/16"
6-3/4"

38 mm
39 mm
40 mm
41 mm
42 mm
43 mm
44 mm
45 mm
46 mm
47 mm
48 mm
49 mm
50 mm
51 mm
52 mm
53 mm
54 mm
55 mm
56 mm
57 mm
58 mm
59 mm
60 mm
61 mm
62 mm
63 mm
64 mm
65 mm
66 mm
67 mm
68 mm
69 mm
70 mm
71 mm
72 mm
73 mm
74 mm
75 mm
76 mm
77 mm
78 mm
79 mm
80 mm
81 mm
82 mm
83 mm
84 mm
85 mm
86 mm
87 mm
88 mm
89 mm
90 mm
95 mm
100 mm
105 mm
110 mm
115 mm
120 mm
125 mm
130 mm
135 mm
140 mm
145 mm
150 mm
155 mm
160 mm
165 mm
170 mm
175 mm